Home » All Masks » Commedia Masks
Commedia Masks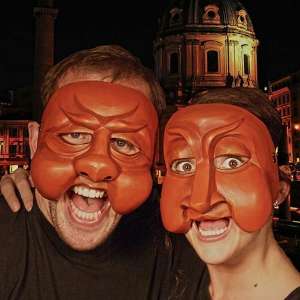 The actor must leap into the commedia dell'Arte! The commedia is an intense form of theater based on the meeting, at a high level of intensity man's passions pushed to their maximum. It is a world where there is an urgency of life. Lecoq describes it as the struggle to live rather than just life.
These commedia dell'Arte masks are a modern take of many of the historic forms.  The rhythmic sculptural  form of the masks,  the paint treatments and color choices are all intended to allow the masks to play better and to be more visually stimulating in the class room environment or on stage under the lights.
These commedia masks are reflective of a style of performance born in the late 16th century.  The Commedia dell'arte appeared in the renaissance at the end of the dark ages.  This highly physical style of comedy arose out of black death.  The characters/masks exist in a world of desperation in which every act engaged in could possibly result in death.
The Commedia Mask collection offers several versions of many of the central characters of the commedia dell'Arte. The Pantelone Masks and Arlechino Masks are good example of this.
New Commedia mask designs are being offered all the time so keep coming back to check them out. Don't see a design you are looking for?  Ask the mask maker for a custom made mask!
Learn more About The Commedia Dell'Arte.
Mix & match and save!
Individual masks are $89.00
Order any 10 masks for $870 (Save $30)
Order any 15 masks for $1,260 (Save $75)
Order any 21 masks for $1,680 (Save $189)
Showing all 33 results