Home » All Masks » Character Half-Masks
Character Half-Masks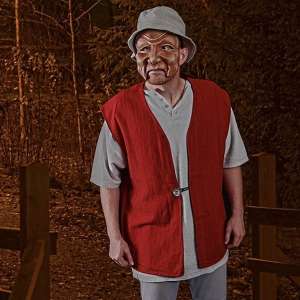 The character half masks offered by theater-masks.com have been developed over the years for professional production and as masks for schools, colleges and universities.
The character half masks represent a wide range of expressive qualities. Each mask sees the world from a unique point of view, is capable of a full emotional range and inspires a heightened sense of play.
They are an excellent addition to a Lecoq based actor training sequence in which the actors have to also focus on speaking text. The training sequence would go: neutral mask, larval mask (Basel Mask) and then half mask rather than full face character mask.
Explore the designs and if you don't see something that fits your need ask the mask maker to have a custom made mask. Custom projects for character half masks used as masks for actor training come at a discount for educators and teaching artists.
Individual masks are $89.00
Order any 10 masks for $870 (Save $30)
Order any 15 masks for $1,260 (Save $75)
Order any 21 masks for $1,680 (Save $189)
Showing all 27 results