Mark Fortier once said, "The purpose of theater is to put the audience in a better position to understand the world around them." Theater can be an introduction to the truth about life that comes to light through the expressions showcased within the masks.
Practitioners in professional theater and educational know that a theater mask is of massive importance. The theater drama masks provide artists with the unmatched opportunity to reveal their humanity in the most impressive form.
If your love for theater has brought you to us, looking for custom masks online, rest assured you won't have to look elsewhere. Whether in need of a character mask or Mardi Gras & costume masks, our popular mask maker, teaching artist, and performer, Jonathan Becker, will leave no stone unturned in catering to your precise custom mask needs. Today, our list of clients comprises Disney Theatrical in association with The Lion King, The Bravo Cable Network and Theater of Enchantment in Philadelphia, in addition to countless theater companies, producing organizations, individual artists, and training programs. To add to all of that we have recently achieved yet another milestone by shipping our custom made masks to over 50 countries around the globe.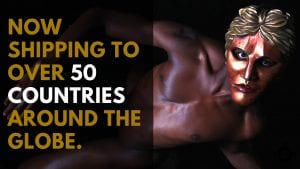 Do you want to uncover more about theater masks and Jonathan Becker? Shop masks today.