Jonathan offers a variety of services as a teaching artist.
Classes in mask performance as well as workshops in mask making have been offered to students throughout the United States, in Europe and in China. He also offers course work in movement for actors, physical comedy, acrobatics and unarmed combat. Some of the pre-designed workshops and the Performance Demonstration are listed here. As with everything Jonathan does,
custom workshops and residencies can be created to fit your training program or organization.
Go here for a schedule of current workshops and residences.
Go here for Jonathan's current teaching resume
(PDF Format)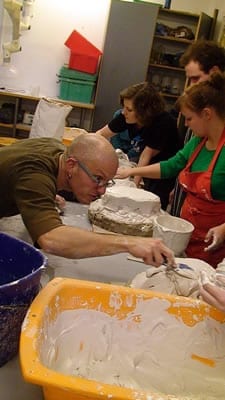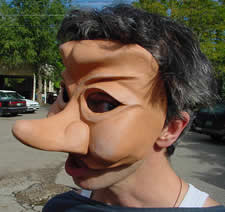 Past Residencies have been in:
Neutral Mask
Character Mask
Character Half-Mask
Larval Mask
The Mask Intensive (Neutral, Larval, Character Half Mask)
Greek Theatre Mask
The Commedia dell'Arte
Theatre Clown/Physical Comedy
The Performance Demonstration:
Facing Humanity: Masks of History and Culture, a Performance Demonstration
This exciting performance is a celebration of world cultures through mask performance.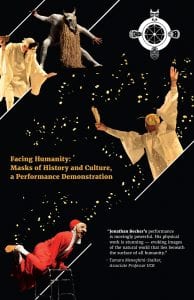 Current Workshop Descriptions:
Masks in Performance: Teacher Training/ Actor Training with mask
A workshop for performers, students and teachers. Explore one of the most effective methods of actor training through Neutral, Larval and Character Half Mask. the mask tangibly reveals to the actor the intricacies of the art of performance, directing and an application of understandings to all styles of acting.
Mask Making, an exploration of expressive form:
This workshop explores the entire process and understandings necessary to create an expressive form, a mask that appears to change expression as it moves through space.
Jonathan has worked as an artist in residence, teaching mask-work and physical theatre for:
The Theatre Conservatory at Webster University
The University of Colorado Boulder
The University of Alabama
The University of the Ozarks
Washington University, St. Louis
Ball State University
The Baltimore School for the Arts
Southern Illinois University Carbondale
The University of Richmond
The University of Nebraska, Lincoln
The MFA in Actor Created Physical Theatre at Naropa University
The Theatre Conservatory at Roosevelt University
The University of Colorado BFA Program
Hiram College
Miami University
The Cincinnati Playhouse in the Park Apprentice Program
The College of Wooster
Le Centre des Arts Sevran, France
The Houston School for the Visual and Performing Arts
The New Orleans Center for the Creative Arts
The Boston School for the Performing Arts
The Rey Schule, Ebikon, Switzerland
The Zwischenbhune Theater, Luzern Switzerland
Shaker Heights High School
The Cleveland School of the Arts
The Rhode Island School of Design
Virginia Commonwealth University
The Brown/Trinity Rep Consortium
The University of Virginia,
Oslo University College, Oslo, Norway
Denison University
The Park School of Baltimore
Nanjing University, Nanjing, China
Click here for Jonathan's teaching resume (PDF Format)