Home » All Masks » Comedy/Tragedy And Decorative Masks
Comedy/Tragedy And Decorative Masks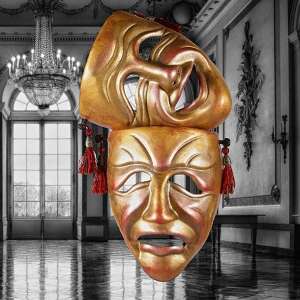 Welcome to the decorative and gallery oriented masks offered by Theater-Masks.com.
Ask about mounting any of the masks on the site.
All of the masks on this page are created so they can be easily hung on a wall.
The comedy tragedy masks pictured originate in the Greek Theatre. They have come to symbolize drama in the western world.
The rest of the masks pictured here all have a story of creation.  Click on the image to read it.
Masks can be custom mounted for awards or displayed in a box frame. More…
Showing all 12 results