Jonathan offers a variety of services as a teaching artist. Classes in mask performance as well as workshops in mask making have been offered to students throughout the United States and in Europe. He also offers course work in movement for actors, physical comedy, acrobatics and unarmed combat.
Some of the pre-designed workshops and lecture-performances are listed here. As with everything Jonathan does, custom workshops and residencies can be created to fit your training program or organization.
Go here for a schedule of current workshops and residences.
Go here for Jonathan's current teaching resume (PDF Format)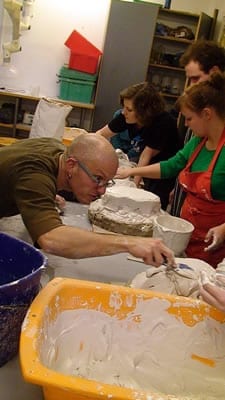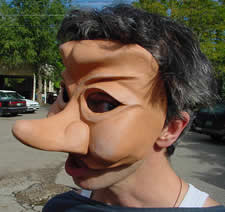 Residencies in:
The Commedia dell'Arte
Character Mask
Character Half-Mask
Theatre Clown/Physical Comedy
The Mask Intensive
Neutral Mask
Larval Mask
Lecture Demonstrations
Hey Punch! Where's Judy?: The Living Masks:
Introduces the Commedia dell'Arte as a 21st Century form of expression.
Behind The Mask:
Introduces the audience to the living sculpture of the theatre mask. Comedy masks of The Commedia dell'Arte, Masks in the style of The Swiss Carnival of Balle, and full-face expressive masks, all created by the lecturer, are demonstrated.
The Actor; Architect of the Empty Space:
Addresses the pedagogical approach of The International School of Theatre Jacques Lecoq and the importance of mask and movement training.
Workshops
Mask Making:
Students learn how to create the living sculpture of a theatre mask.
The Movement Lab:
Physical training for the actor following the techniques developed by Jacques Lecoq and Jerzy Grotowski. Simple acrobatics, strength and flexibility training, falls, breath and focusing exercises, the plastiques, the corporals and pantomime techniques.
Jonathan has worked as an artist in residence, teaching mask-work and physical theatre for:
The Theatre Conservatory at Webster University
Washington University, St. Louis
Ball State University
The Baltimore School for the Arts
Southern Illinois University Carbondale
The University of Richmond
The University of Nebraska, Lincoln
The MFA in Actor Created Physical Theatre at Naropa University
The Theatre Conservatory at Roosevelt University
The University of Colorado BFA Program
Hiram College
Miami University
The Cincinnati Playhouse in the Park Apprentice Program
The College of Wooster
Le Centre des Arts Sevran, France
The Houston School for the Visual and Performing Arts
The New Orleans Center for the Creative Arts
The Boston School for the Performing Arts
The Rey Schule, Ebikon, Switzerland
The Zwischenbhune Theater, Luzern Switzerland
Shaker Heights High School
The Cleveland School of the Arts
The Rhode Island School of Design
Virginia Commonwealth University
The Brown/Trinity Rep Consortium
The University of Virginia,
Oslo University College, Oslo, Norway
Denison University
The Park School of Baltimore
Nanjing University, Nanjing, China
Click here for Jonathan's teaching resume (PDF Format)